8 Impactful ways to create your event's stage design!
Setting up a stage for speakers may seem like a simple matter compared to creating an elaborate performance platform.But the success of a presentation— depends on minute details like size, lighting, and accessibility, even the right selection of microphones and lecterns.
We list down a few ways you can make sure you get it right and create a maximum impact on driving home the objective out of doing the event.
Choose the correct elevation
It is extremely critical to measure every nook and corner of the venue before creating your stage design. That includes pillars, access to emergency exits, clear ceiling height.After that information is factored in,Consider guests line of sight and comfort when choosing the right elevation for your stage.
For any presentation, 1.5 ft off the ground is considered ideal for seated audiences of up to 200.
The height for the stage would need to increase depending on the size of the audience and can go up to 5 feet. If however, the venue has height limitations and the stage size is restricted when you have a larger audience, there need to be  measures taken to ensure attendee comfort and accessibility to the content being displayed on screen.
One way to do so would be a live feed of the proceedings on stage through screens at regular intervals.
Use appropriate lighting
Lighting should be properly situated for all of the individuals who will be standing on the stage at various heights.
Though it may seem surprising, stage lighting is often the most forgotten element and is also the most important not only during the event but also for the photography and videography done.
On the flip side, speakers often complain about how the light is hitting their eyes and being unable to see the audience.
What we recommend, in order to find a balance, is to black out the entire room and control the lighting from the console to have effective brightness as required. Never use only one profile light for the speaker, there are many speakers who like to move around and a minimum of 2 lights are required besides the general house lighting.
Make sure audio is loud and clear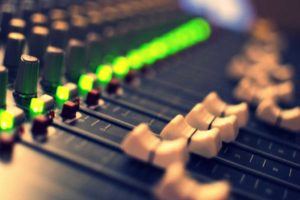 One of the biggest contributors to making a presentation impactful is audio quality.
The most important thing is ensuring there is no feedback and there is an effective sound distribution across the venue.
If you were to imagine your conference venue to be a square, it is essential to place at least one speaker in each corner of the venue.
Depending on the size of the audience, ensure all areas are covered by placing speakers at regular intervals. For a 200 capacity event, 4 speakers are required and you can increase the number of speakers by 2 for every 200 pax extra.
While a PA system is sufficient for a formal conference,you will need to properly assess what equipment is needed for any entertainment needed for the networking reception.
Have all types of microphones available at your disposal
Always check with your speakers as to how they prefer to present. You will find presenters who like being stationary at the lectern while you will also find presenters who like to move around on stage.Many presenters use hand movements for effective communication as well.
The best thing to do is prepare for all contingencies, this helps in making the speakers / presenters as comfortable as possible for them to be able to communicate effectively.
Have lectern mics, lapel mics as well as cordless mics for audiences to ask questions clearly.Ensure that post every presentation your event crew is standing by waiting to pass the mics to whoever requires it.
Always Brand the Lectern
A lectern may seem like the most basic and ordinary of staging needs for presentations, but branding the lectern is important as all hotels and venues have different lecterns and unfortunately, the lectern can be an eyesore in the middle of the stage if it is not branded.
The branding should not have too much information, just the company logo with the central color theme for the overall stage should work.
Keep it simple.
"Simplicity is the ultimate sophistication!" – Leonardo Da Vinci
Elaborate stage decor or sets may pose a distraction for speakers, as well as audience members—those watching live or those watching virtually or at a later time.
We recommend a clean and crisp end to end set-up which is elegant in itself and adds the grandeur required.
Allow easy access.
A stage with insufficient or complicated access can pose a threat to a successful event.
It is always advisable to have multi-layered paneling for ease of access, the speakers may as well enter from the front or the sides, but in the case of entertainment and any props which need to be rolled out onto the stage, they need to brought on to the stage from the backstage area.
Remember, space is everything. Plan Smart.
You always should have your agenda and speakers decided well before you plan for the stage and design.
At Pegasus, we believe absolutely everything at your event needs to work like clockwork, in complete balance and needs to compliment each other, only then can you create an extremely impactful event.